DID YOU KNOW?(And do you care?)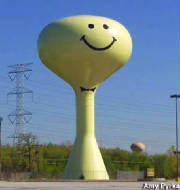 Water Tower-Axtell, NE
Nebraska: Happiest place in the USA 4/6/09
Nebraska is the "Happiest Place in the Nation", according to a national broadcast Monday on ABC's Good Morning America.The declaration stems from the way the state is weathering the economic storm in an ongoing study by Mainstreet.com called the Happiness Index. "The state that brought you Kool-Aid and Cliffs Notes and the world's richest person Warren Buffett is feeling better off than the rest of us," a MainStreet.com writer said.
Each month, the Happiness Index looks at household income, debt, employment and foreclosures. Nebraska currently ranks second overall in lowest number of foreclosures, second in lowest unemployment rates, and fifth in the lowest percentage of non-mortgage debt by income. No state has a better average.
Nebraska and the Midwest are somewhat insulated from the initial shock of economic recessions, and people are more modest overall about personal spending and economic well-being, Wood said.

The real life Goodfella Henry Hill, wife Karen and their children were sent to Omaha, Nebraska via the Witness Protection Program after Hill ratted out his longtime wiseguy patrons in New York. Hill and family were only in the city for 6 months before being moved for their own safety. Hill's cover was blown when he began getting sloppy drunk in Omaha bars. He told anyone interested, and some and people who were not, that he was an infamous wiseguy.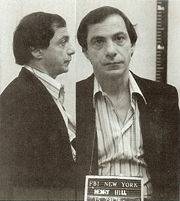 Henry Hill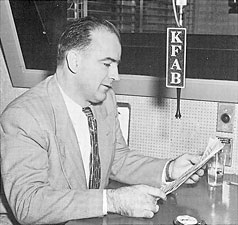 Anti-Commie Crusade Comes to Nebraska
Sen. Joseph McCarthy brought his anticommunist crusade to Lincoln on August 24, 1951, where he made a nationally broadcast radio speech from the studios of station KFAB. (KFAB had started in Lincoln in 1926 and later moved to Omaha.) He continued to charge in the address that Democratic administration officials were either communist sympathizers, members of the American Communist Party, or outright Russian spies. But his methods -- claiming to have a list of names, yet never providing hard evidence to back up his charges -- had begun to come under fire. McCarthy fired back that anyone who opposed him was a communist. In his Lincoln radio address, he said, "Everyone who hates communism loves McCarthy. Everyone who loves communism hates McCarthy."
The next night, McCarthy spoke to a sparse crowd of less than 500 in Omaha. The Lincoln Star newspaper reported, "Senator Joseph R. McCarthy was in Omaha Monday night bleeding at every vein in his one-man crusade to make the world safe for free men. He said that he alone is the savior of human freedom." On its editorial page, the Star called McCarthy's visit "August Madness," criticized his charges and methods, and hoped that the American people would not put up with "McCarthyism."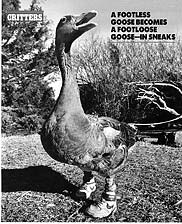 Andy the Footless Goose
In the late 1980s a gosling was born in Harvard, Nebraska. Although this is a relatively common occurrence, this little hatchling was different, as he was born with stumps for feet. So began the saga of Andy, the Footless Goose. Andy's eventual owner fashioned shoes for him and taught him to walk. The sneaker-wearing goose became something of a local celebrity and delighted children throughout the area during public appearances. Andy's fame became national when he was featured in this 1989 People Magazine article. He was also a "guest" on The Tonight Show that same year. Sadly, Andy was kidnapped and murdered in 1991. His body was eventually found and his shoes were still on. Andy's fans contributed $10,000 in reward money, but his murderer was never located.

Post Office in a Hat
The first postmaster of Omaha was Alfred D. Jones, who, since there was no post office building, carried the letters in his hat as he went about his work. When people asked him for mail, he removed his hat, sorted through the letters, and returned the others to his hat-post office. He was appointed postmaster in 1854. He was also a bricklayer, surveyor, and member of the bar and city council. He died in 1902 at the age of 88.

The Anti-Football Bill
In the Legislature of 1897, J. N. Gaffin, a farmer from Saunders County, introduced a bill to make football illegal. A violation would bring a fine of $20 to $100 and imprisonment in the county jail. The death of a Doane College player at Hastings inspired the measure. Several amendments were offered, extending the ban to baseball, skating, and swimming. Nothing, however, came of the measure.

TV Dinners Invented in Nebraska
Gerry Thomas, University of Nebraska alumnus and salesman for Omaha-based C. A. Swanson and Sons has been credited with inventing the TV Dinner in 1954. The concept included the now famous three-compartment triangle tray inside a box designed to look like a television set. While Pinnacle Foods Corporation, which now sells Swanson brand foods, considers Thomas the man who invented the frozen meal that launched many imitations, former Swanson employees state that the Swanson brothers themselves invented the product and that many members of the company's marketing and sales staff worked on the project. What is not in dispute is that Swanson was the first to mass-produce and market frozen meals and to coin the term "TV Dinner."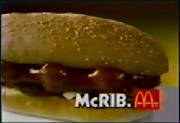 McDonalds' McRib® Sandwich Invented in Nebraska
In 1972 Professor Roger Mandingo of the University of Nebraska received a grant from the National Pork Producers Council to work on a process to create restructured meats. He developed a technology to bind small pieces of meat together in different shapes using salt and mechanical action. The results of his work can be seen today in such items as dinosaur-shaped chicken nuggets and the famous McRib Sandwich.

Lincoln Body Snatchers
In early January 1885 teenage prostitute Pearl Forcade was killed by a drunken man at "Mollie's Hall" in Lincoln. When her brothers arrived at Wyuka cemetery to claim Pearl's body, it was gone. Professors at the University of Nebraska medical school, then in Lincoln, were accused of stealing the corpse because the school had a well-known shortage of cadavers. Although Pearl's body mysteriously reappeared after a few days, this incident, and other similarly gruesome ones, caused the legislature to cut funding for the medical school, which closed for good in 1887. When the Omaha Medical School aligned itself with the university the state approved money to build an Omaha campus in 1909.

Nebriskits
To stock bomb shelters with food in the event of a nuclear attack, the Nebraska Department of Agriculture developed "Nebraskits,"compressed wheat biscuits formulated to satisfy a person's nutritional needs for at least two weeks. The Division of Nebraska Resources newsletter, Nebraska on the March, sang the praises of Nebraskits: "The rations have a long shelf life, are ready to eat and are palatable to all age groups." The shape was later changed to look more like a conventional cracker, and other varieties were produced.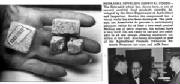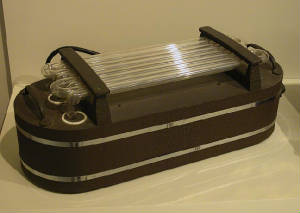 Cosmo Ray Machine
This Cosmo Ray machine was sold in Lincoln during the 1940s. The instructional pamphlet included testimonials from people who had been cured of such varied ailments as warts, ingrown toenails, jaundice, high or low blood pressure, and even "psychiatric problems" by the ozone generated from the Cosmo Ray.

Fortean Research Center
In the early twentieth century Charles Fort cataloged odd occurrences throughout the world.The term "Fortean" was coined in his honor. The Fortean Research Center (FRC) was based in Lincoln from 1982 until 1995. At its peak, the FRC boasted about 250 members worldwide, and gained local attention by hosting three conferences. The FRC's radio program, Exploring Unexplained Phenomena, has been airing weekly since 1985 on KZUM, 89.3 FM.

Slavery in Nebraska
In Nebraska the people never voted for slavery, but people coming here from the South brought slaves with them. In 1855 there were thirteen slaves in Nebraska and in 1860 there were ten. Most of these were held at Nebraska City.
Across the Missouri River at Tabor, Iowa, was a settlement of abolitionists. A branch of The Underground Railroad ran from Missouri through the corner of Nebraska by way of Falls City, Little Nemaha, Camp Creek and Nebraska City to Tabor. The runaway slaves traveled at night along this road and were fed and hidden during the day by friends. At Falls City they were kept in a barn. John Brown came through this corner of Nebraska very often with slaves from Missouri whom he was helping to set free.
In November, 1858, Eliza, a slave girl owned by Mr. S. F. Nuckolls at Nebraska City, ran away, and with her another slave girl. Mr. Nuckolls (after whom Nuckolls County was named) was very angry and offered $200 reward. With the aid of the United States marshal he began a search of the houses at Tabor for his slaves. The girls were not there, but one man whose house was being searched was struck on the head by an officer and badly wounded. For this Mr. Nuckolls had to pay $10,000 damages. Eliza escaped to Chicago, where she was arrested the next year and was about to be returned to her master when a mob rescued her and she was hurried over to Canada. Mr. Nuckolls sued sixteen Iowa people for helping Eliza to escape, but the war soon came on and he did not win his suit.
The few slaves in Nebraska were hard to hold. On June 30, 1860, six slaves owned by Alexander Majors at Nebraska City ran away and never came back. On December 5, 1860, the sheriff of Otoe County sold at auction in the streets of Nebraska City one negro man and one negro woman, known as Hercules and Martha. This was the last of slavery in Nebraska, for in January, 1861, the legislature passed an act abolishing slavery in the territory.


Popcorn Balls
There is a Nebraska legend that the popcorn ball is actually a product of the Nebraska weather. It supposedly invented itself during the "Year of the Striped Weather" which came between the years of the "Big Rain" and the "Great Heat" where the weather was both hot and rainy. There was a mile strip of scorching sunshine and then a mile strip of rain. On one farm, there were both kinds of weather. The sun shone on this cornfield until the corn began to pop, while the rain washed the syrup out of the sugarcane. The field was on a hill and the cornfield was in a valley. They syrup flowed down the hill into the popped corn and rolled it into great balls with some of them hundreds of feet high and looked like big tennis balls at a distance. You never see any of them now because the grasshoppers ate them all up in one day on July 21, 1874.
- from American Eats, by Nelson Algren, published by University of Iowa Prewss, 1992

Charles Manson spent four days at Boys Town, NE in the late 1940's.
At one time Albion in Boone County, NE had the highest unsolved murder rate in the country.
Charles Lindberg learned to fly in Lincoln, NE.
The Hall brothers who started Hallmark cards were from Norfolk, NE.
Lincoln was once nicknamed Church City because of the number of churches in the town.
Sneezing or burping are illegal during a church service in Omaha.
In Lehigh it is against the law to sell doughnut holes.
In 1943 Lieutenant Clark Gable was stationed briefly at the Kearney Army Air Field.

Thurl Ravenscroft from Norfolk, NE has been the voice of Tony the Tiger from Kellogg's Sugar Frosted Flakes for over 35 years.
CliffsNotes were started in Nebraska in 1958.
The Vice-Grip was invented in DeWitt, NE in 1924.

Nebraska is home to three Nobel Prize winners: George Beadle, Wahoo, for science, 1958; Val Finch, Merriman, for physics, 1980; Lawrence Klein, Omaha, for economics, 1980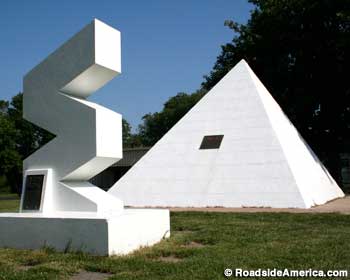 Worlds Largest Time Capsule in Seward Nebraska
As tourist attractions, time capsules can be disappointing (at least until the appointed hour) -- often visible just as a plaque in a sidewalk or monument base. And even the revealed contents can tend to be impersonal, assembled by some committee -- long on the scholarly rickety-rack and short on the good, crazy stuff.
That's not true, however, of the time capsule buried in Seward, Nebraska. It's the work of one man, Harold Keith Davisson, a local celebrity, store owner, and town character. He was not concerned with the far-distant future. He was thinking about his grandkids, and about how his time capsule was going to be the biggest one in the world.
Harold was a senior citizen when he had the 45-ton vault buried under a mound of dirt on the front lawn of his home furnishings and appliances store. This was in 1975, and although casual historians may assume that this was just another wacky bicentennial project, that was not the case, according to Trish Johnson, Harold's daughter, president of the House of Davisson Furniture Corporation, and self-titled "Keeper of the Crypt."
"He wanted his grandchildren to know what HIS life was like in 1975," Trish told us. "He was convinced that they wouldn't remember him."
Davisson also believed that "reading a book was not as good as seeing and touching," according to Trish, so he filled his time capsule with an eclectic assortment of 5,000 items, including a pair of bikini panties, a man's aquamarine leisure suit with stitched yellow flowers, and a brand-new Chevy Vega, "the cheapest car he could find." Even though House of Davisson is still known for its odd displays -- we saw a concrete Indian, a winged bomb, and a portable jail cell out in the parking lot -- Trish said that there's no truth to the rumor that her dad merely filled the capsule with stuff that he couldn't sell. "Although he did once tell me," she recalled, "that you could make more money on this store if you just locked the doors and let everything sit for 50 years."
The capsule was sealed on July 4, 1975, to be opened on July 4, 2025. And Harold Davisson got his wish: the 1977 Guinness Book of World Records certified his time capsule as the largest in the world.
This immediately drew howls of protest from Oglethorpe University in Atlanta, Georgia, which claimed that its "Crypt of Civilization" -- sealed in 1940 -- was the world's largest time capsule. Davisson countered that their Crypt was merely a sealed-off room in a campus building, and therefore was not a time capsule at all. The bickering lasted for months, and Guinness eventually settled the dispute, to its satisfaction, by dropping the Time Capsule category altogether from its roster of records.
Harold Davisson, however, was not a man to lose an argument -- or even settle for a draw. In 1983 he built a SECOND time capsule, directly over the first, sheltered within a poured concrete pyramid. Now there could be no question as to whose time capsule was the largest. The pyramid also served as a roof to keep water away from the original, subterranean capsule (Harold's fear of a leaky crypt was prudent, given what has happened to the contents of other buried time capsules). Within the pyramid, Davisson entombed a SECOND CAR: a beat-up 1975 Datsun or Toyota -- no one can remember which -- "to show what our society does to a car in ten years" according to Trish. Also inside are "piles and piles of telephone books" and packages assembled by local citizens as gifts to posterity. "The man was eccentric," Trish said, "but he was a future-thinker, and he did the right thing."
Harold, it turned out, didn't need a time capsule to share the disco era with his grandkids. He did that in person, and at his leisure, because he didn't pass away until 1999. Harold Davisson was 91, and hale and hearty until the end.
"One of his last arguments with me was about how to open the time capsule," Trish told us. "He said that there's enough room to sling the lid up inside the pyramid. My recollection is that there is NOT enough room, and that we're going to have to crack the lid."
"There's no way to tell until 2025," Trish added. "And I'll be 77, and I'll be darned if anything's gonna stop me between now and then."
from RoadSide America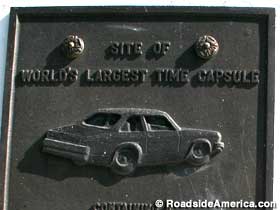 World's Largest Time Capsule:
Address: 318 Hillcrest Dr., Seward, NE
Directions: I-80 exit 379. Drive north on Hwy 15 for six miles into Seward. Eight blocks north of the intersection of US 34/Main St., turn right onto Hillcrest Drive. The Time Capsule is two blocks east, on the north side.
Phone: 402-643-4189

EXTREME NEBRASKA
The biggest, smallest, longest, shortest--Nebraska is a land of extremes!