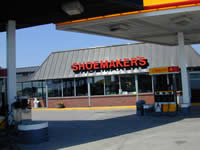 Shoemaker's Truck Stop & Gas Station Museum - Lincoln
Restaurant/store is filled with petroliana. They have more than 30 gas pumps, including a Tokheim 850, Wayne 492, Fry 117, Wayne 60, Dayton 50, Hawyeye-Dart and more. A "must visit" for gas station memorabilia enthusiasts.
Location: 4800 West O Street, Lincoln, NE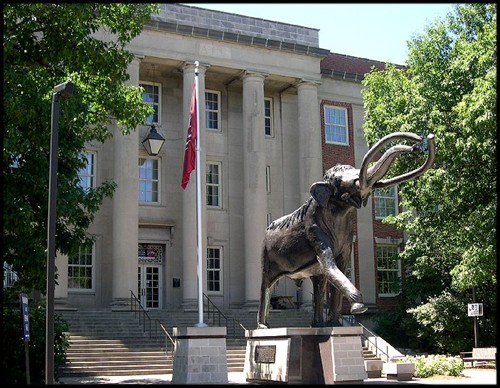 Museum of Nebraska History - Lincoln
This remarkable history museum features over 10,000 years of the history of the peoples and cultures of Nebraska From the first Nebraskans (the American Plains Indians), to the settlement of the state by a hardy pioneer people, the museum offers exhibits of many fine collections of Native American artifacts, early pioneer heirlooms, memorabilia, and historical images & documents related to the history of the state of Nebraska. Located at 15th and P Streets in Lincoln, NE.
Location: 15th and P Streets Lincoln, Nebraska 68508
Hours: Year round: 9 - 4:30 Tuesday - Friday 1 - 4:30 Saturday and Sunday

The Museum of the Odd - Lincoln
The Museum of the Odd, located in a two-story pink home at 701 Y Street, couldn't be more aptly named. Owner, curator, and artist Charlie Johnson has amassed an astonishing collection of oddities, covering nearly every square inch of his residence, including the floors, walls, and sometimes ceilings. The mind tends to reel with delight when presented with shelves of cartoon-character bubble-bath containers, plastic banks, toy trains, rubber animals, pulp magazines, religious icons, children's books, baseball cards, board games, Halloween and Day of the Dead trinkets, sci-fi magazines and figurines, Mardi Gras beads, and a seemingly endless explosion of ordinary items that assume oddity due to their sheer number and presentation. One visitor described the Museum of the Odd as a massive collection of "shrapnel from the twentieth century's pop-culture explosion." Be sure to call ahead to make sure Charlie will be home to admit you to his shrine to oddity. The above description is an excerpt from "Nebraska: Off the Beaten Path."

Heartland Museum of Military Vehicles - Lexington
The museum has about 100 vehicles including helicopters, tanks, halftracks, ambulances, and a jeep from every branch of the service plus displays of weapons, uniforms, engines, equipment, and more. The everyday necessities of a soldier's life, such as MREs, blend with unique vehicles like those used by the German army in World War II.
This hands-on museum invites you to see, touch, and even sit in vehicles that have been restored and, for the most part, are operational. Vehicles date from World War II but displays include items from World War I as well.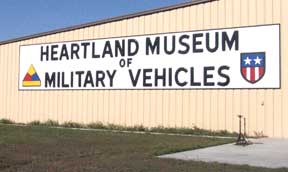 Open DAILY except
Christmas and New Year's Day

10 a.m. - 5 p.m.
Monday thru Saturday
Sunday 1-5 p.m.

The HMMV is just off Interstate 80
at exit 237 Lexington, Nebraska.

Neligh Mill State Historic Site - Neligh
Sift through the story of milling in Nebraska and tour a mill with its original 1880s equipment still intact! The Neligh Mill is a surviving reminder of the grist mills that once dotted Nebraska's landscape. Explore the mill, restored mill office, reconstructed flume and penstock, and the remains of the mill dam.
Museum displays explain the history of the Neligh Mill and provide information about other water-powered mills once located throughout Nebraska and the Midwest. Publications available for purchase at the Neligh Mill include the Neligh Mill Cookbook, Water Powered Mills in Nebraska, and a self-guided tour book of the Neligh Mill.
Located at: N St. and Wylie Dr., (402-887-4303)
M-Sat 8-5, Sun 1:30-5 Memorial Day-September 30; M-F 8-5, Sat-Sun by appointment, October-Memorial Day.

OLD JAIL MUSEUM-Neligh NE
Organized by the Antelope County Historical Society, there are 3 buildings maintained by the society. The main museum is housed in the old county jail. Other buildings include the Pioneer Church and a reproduction log cabin. Artifacts include extensive collections of early documents and photos. The Old Jail Museum is located at at the intersection of Hwy 275 and 6th Street in Neligh, NE. The Antelope County Historical Society is located at 509 L Street.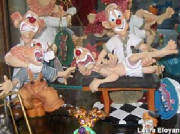 Kreepy Klowns
Klown Doll Museum - Plainview
Plainview is the Klown Kapital (K spelling their's) of the U.S. They have a thorough if not creepy museum to prove it. It's a wacky town all around, complete with an old fashioned store that you can buy toys from the 50's from and a great bowling alley. Aside from that, they have a crazy fascination with a band called "Klown" and honor it with a annual parade. Perfect setting for a horror flick....

Pawnee City Historical Museum - Pawnee City
The living history museum is a collection of 16 historical buildings containing artifacts, photos and historic documents related to the history of Pawnee County, Nebraska. Historic buildings include the Curtis House, David Butler's House, a log cabin, the Cracker Box School, the Lower West Branch Schoolhouse and more. Located on East Highway 8 in Pawnee City, NE.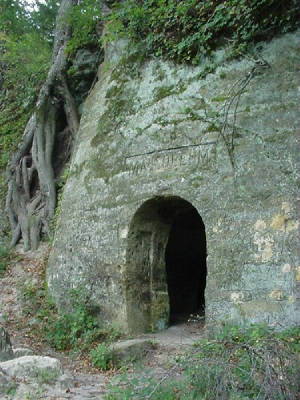 Mausoleum "Magic Etched in Stone"- Fairbury

The mausoleum, known as McDowell's Tomb, is located south across the railroad tracks and Rose Creek, and about 1/3 mile west. It was hand-carved into a sandstone bluff by Fairbury resident Nelson L. McDowell, a wealthy bachelor. Nelson McDowell was the son of J.B. McDowell, one of Fairbury's founders. When standing on "Lookout Mountain" you can see three counties.
Nelson McDowell, spent a decade of his life carving the mausoleum with a hammer and a chisel. The mausoleum has two rooms. Today, the Mausoleum shows the signs of many visitors who have left their own carvings. Nebraska Game and Parks Commission requests that visitors do not mark on the mausoleum walls to protect them for the future.
Nelson L. McDowell died in a car-train accident in Fairbury on September 27, 1937, at the age of 80. He was buried in the Fairbury City Cemetery because, the law prevented him from getting buried in the Mausoleum. Speculations still remain as to if Nelson McDowell really intended to be buried in the Mausoleum or if it was merely a hobby.

Location from Fairbury, Nebraska: 2 miles south on Hwy 15, 3 miles west on Hwy 8, 1- 1/2 miles south on 566 Avenue.

National Liars Hall of Fame -Dannebrog
The National Liars Hall of Fame was founded in 1896 (or maybe it was 1986) by unknown Dannebrogian Roger Welsch. He was once quoted as saying that the Liars Hall of Fame attracts just under 2 million visitors annually and that it is often compared to the Smithsonian Institution.
Truthfully speaking however, the National Liars Hall of Fame is located in the Lille Mermaid Gift Shop right along Dannebrog's Mill Street. It was moved into the Lille Mermaid building back in 2000. Gaylord Mickelsen and his wife Judy own the business which they started in 1991. The charming store houses a unique collection of Danish imports, novelties, trinkets, collectables, artwork, books and a little bit of this and that, you never know what might be on the next shelf.
The Hall of Fame exhibits its founder's unique collection of books about the exquisite art of lying as well as dozens of strange contraptions and devices. It includes"extensive exhibits on the art of prevarication and metric mendacity, tributes to champions in the field, exhibits, demonstrations, living history presentations, historical panoramas, pageants, parades and publications".
The Lille Mermaid and the National Liars Hall of Fame truly does have something for everyone, honest.
Location: 106 S. Mill St, Dannebrog, NE
Hours: Open Wed-Sat, 9am-5pm. Call ahead for tours of more than 500 visitors.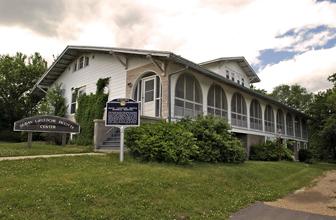 Susan La Flesche Picotte Center - Walthill
First Native American woman physician in the U.S., built hospital in 1910 to serve two Indian tribes. In 1912 a new hospital, built for Dr. Picotte with funds received from grants and donations, opened in Walthill. After Dr. Picotte died on September 18, 1915, the hospital was named in her honor. The hospital served both Native Americans and whites for over 30 years, then served as an elder care center for another 20 years. The hospital existed until the late 1940s. The hospital was listed on the National Register of Historic Places in 1989, and declared a National Historic Landmark in 1993. It is owned by the Susan La Flesche Picotte Center, Inc., a private, non-profit, tax-exempt corporation. It now displays photos and artifacts from Dr. Picotte's life. Named the Susan La Flesche Picotte Center, it commemorates Dr. Picotte's medical work and her life, dedicated to the welfare of her people.

Sokol South Omaha Czechoslovak Museum,
2021 U St., Omaha, NE 68107
(402-291-2893) By appointment.
History of Czechs in Omaha. Wheelchair accessible.

Farm and Ranch Museum,
2930 M St., P.O. Box 398, Gering, NE 69341
(308-436-1989) M-Sat 10-5, Sun 1-5, May 15-September 15; or by appointment.

110-acre farm interprets agriculture of the High Plains. Wheelchair accessible.

Ashfall Fossil Beds State Historical Park,
P.O. Box 66, Royal, NE 68773
(402-893-2000) T-Sat 10-4, May 1-Memorial Day weekend; M-Sat 9-5, Sun 11-5, Memorial Day-Labor Day; T-Sat 10-4, Sun 1-4, Labor Day-2nd weekend in October.

Observe paleontologists at work, view unique fossil finds. Wheelchair accessible.

Robert Hillestad Textile Gallery,
234 H.E. Building, University of Nebraska East Campus Mall, Lincoln, NE 68583
(402-472-6370) M-F 10-4.
Textile art exhibits from local and national level. Wheelchair accessible.

Polish Heritage Center

P.O. Box 3, 226 Carlton Ave., Ashton, Nebraska 68817


Sunday 2:00 PM - 4:00 PM. During week by appointment.
Please call (308) 738-2260 for appointment.

VietNam War National Museum
380 South Maple, PO Box 132 Nelson, Nebraska 68961
(402-225-4117)

Eleanor Barbour Cook Museum of Geoscience
Chadron State College, Chadron, NE 69337
(308-432-6377) Daily 7:30-4:30; or by appointment.
Closed major holidays, spring break.
Rocks, minerals, fossils from the Nebraska panhandle region.

Grant County Courthouse,
P.O. Box 139, Hyannis, NE 69350
(308-458-2230) By appointment.
Grant County history, props from John Wayne's stunt man, gigantic arrowhead collection.

Wilber Czech Museum,
102 W. 3rd St., Wilber, NE 68465
(402-821-2183) M-Sun 1-4; closed holidays.
Three levels of Czech art, furniture, clothes. Wheelchair accessible.

Trailside Museum,
Hwy. 20 at Fort Robinson State Park, P.O. Box 462, Crawford, NE 69339
(308-665-2730) Daily Memorial Day-September; off-season varies.
Paleontology, geology western Nebraska, 10,000-year-old mammoths. Wheelchair accessible

Lee's Legendary Marbles and Collectibles
3120 S. Lincoln Ave
York, NE
N. of I-80 Exit 353
"Million Dollar"" collection and flea market Bargain Barn. Buy, sell and trade marbles, antiques, coins and collectibles. Open Tue-Sun. Summer: 8:30am-6pm; winter: 8:30am-4pm. Donation. 402-362-3320 or 402-362-0103

Bellevue Pioneer Cemetery
13th Avenue and Lord Boulevard, Bellevue
A tour of this cemetery is a history lesson through time. View the final resting places of many of the families who pioneered Bellevue. Among those buried here are Fenner Ferguson, the first chief justice of the Nebraska Territory; Big Elk, a prominent chief of the Omaha tribe; and archeologist and artist Dr. Gilder. (402) 292-1880

Fontenelle Bank
2212 Main Street, Bellevue
Built in 1856, the Fontenelle Bank today houses a unique collection of early Bellevue memorabilia including an original walk-in vault, exhibits depicting the city's history, and rare samples of Greek-revival Italianate styling. A year after the bank's founding, it closed, and the building became the Sarpy County Courthouse. In 1875 it became Bellevue City Hall. (402) 292-1880

Historic Log Cabin
805 Hancock Street, Bellevue
A treasure trove of history, this cabin is believed to have been built in the 1830s. The home has changed hands just a few times with only three families occupying it between 1856 and 1950. The most recent resident lived there for more than 50 years without indoor plumbing or electricity. (402) 292-1880

Old Presbyterian Church
2002 Franklin Street, Bellevue
Step inside this historic building and you're standing in the oldest church building in the state of Nebraska. Nineteenth-century oak pews, antique stained-glass windows, and summer gardens adorn the 150-year-old building. (402) 292-1880 To Reserve for your Event call Joan Farley 402-291-8565

Omaha and Southern Railroad Depot
2402 Clay Street, Bellevue
Back in the mid 1800s, this depot was a hub for commerce and travel. Today, the building stands at a new location adjacent to the Sarpy County Historical Museum. Step inside and discover a pot belly cast iron stove, Morse code telegraph keys, an oak railroad station clock, oak station waiting benches, trunks, maps, pictures, and a station safe. (402) 292-1880

Portal School
242 N. Jefferson, Papillion
Get a lesson on history in this one-room schoolhouse built in 1890. The school was constructed south of the township of Portal, Nebraska, in Sarpy County. Due to frequent flooding, the town was abandoned with most of the residents moving to nearby Papillion. (402) 292-1880

Sarpy County Historical Museum
2402 Clay Street, Bellevue
Trace the history of Sarpy county from the original American Indians to its present-day residents. Exhibits include the history of the fur traders and missionaries, period rooms, early agricultural pursuits, and a scale model of Fort Crook—now Offutt Air Force Base. (402) 292-1880

Museum of Nebraska Art - Kearney
See…
art representing the work of artist-explorers like George Catlin; early Nebraskans Robert Henri and J. Laurie Wallace; modern era artists Grant Reynard and John Falter, and artists of today. MONA also displays a collection of works by John James Audubon focusing on indigenous Nebraska wildlife. The permanent collection contains over 5,000 works by artists of regional, national, and international importance. MONA is housed in a 1911 Renaissance revival building listed on the National Register of Historic Places.
Explore…
the art of Nebraska! MONA has been home of the state's official art collection since 1979. You'll see Nebraska in a whole new way in eleven galleries. Visitors may also relax and stroll outside through the Cliff Hillegass Sculpture Garden, browse through the Museum Shop for one-of-a-kind gifts, and visit our Hitchcock Education Gallery.
Museum of Nebraska Art Shop…
features an array of unique items including one-of-a-kind jewelry, children's section, original artworks as well as cards and literature celebrating art, creativity, and life in Nebraska. Open during public hours. The Museum Shop accepts Visa, MasterCard, checks, and cash.
LOCATION: 2401 Central Avenue, Kearney, NE 68847
Just minutes north of Interstate 80, with plenty of free parking on the north side of the Museum.
HOURS: Tue. - Sat.: 11 a.m. - 5 p.m., Sun.: 1 - 5 p.m., Closed Mondays and major holidays.
ADMISSION: Free of charge and open to the public. Donations are appreciated and help keep the Museum free for all.