Missing Norfolk Teen: Lacey Anderson

Oct 9, 2009
Norfolk, NE

(NORFOLK, NE) Norfolk native Lacey Anderson went missing almost seven weeks ago on August 23rd. Despite the troubled teen's history of drug use and delinquency, the 19-year-old's mother continues to be her biggest advocate.

Lacey Anderson was living at this apartment complex with her mother when she went missing. "Lacey is a local girl. She grew up here. There's a lot of people that know her," says Sgt. Michael Bauer, Norfolk Police Investigations.

Lacey's mother Pam Hess describes her daughter as a good girl who got caught up in bad things. The teen used drugs and was awaiting sentencing for her role in a drive-by shooting when she disappeared. "She knew she was going to do her time. She was going to make the best of it and take college classes while she was there," says Pam Hess, Lacey Anderson's mother.

Pam says if Lacey left on purpose, it was because someone was targeting her. "If Lacey ran away, I don't think it was because of her sentencing. I think it was because she was scared," says Hess.

There have been dozens of tips but so far none have panned out. "The cops, they follow up on them, but if there's no leads, there's no leads. It's just like Bewitched came in, blinked her nose, and poof, Lacey was gone," says Hess. But Norfolk police say eliminating leads narrows the scope of the investigation.

"The family needs to know that we are continually working on the case. These cases do not go inactive for us. As long as there's something to do, we're out there trying to find Lacey," says Sgt. Bauer. And so is Lacey's family, even when they fear the worst. "But in my heart, I just say, she's somewhere with her friends and they're watching her. And she'll call me when she can," says Hess.

And with the help of Facebook, thousands of friends are coming forward. "Since Lacey's gone missing, there's 3,600 people on her Help Find Lacey website," says Hess. "By using the Facebook, we were able to disseminate and retrieve information extremely quick," says Sgt. Bauer.

But nothing can replace a mother's direct plea to her missing daughter. "Just let me know you're alive. I don't care if she's on the run forever, just let us know she's alive," says Hess. Despite her teen's troubled past, Pam says Lacey is a good kid, a child worth looking for.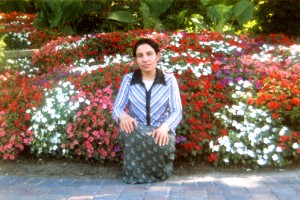 Family waits to hear from missing woman
By MELISSA LEE / Lincoln Journal Star | Posted: Friday, October 2, 2009 10:55 pm
Wansah Hadgi's suitcase arrived at Omaha Eppley Airfield on Sept. 11, stuffed with clothes and souvenirs from the monthlong trip she'd taken to Syria to visit family. The suitcase held beauty supplies and makeup, a new yellow purse and delicately embroidered fabric Wansah bought in Syria to make dresses for herself and her sister for a friend's upcoming wedding.Wansah never picked up her luggage.
In fact, she never boarded her final flight home from Chicago O'Hare International Airport.By the time American Airlines phoned to ask her family to collect her bag, a single father, four younger siblings and countless friends had begun to panic.How could Wansah have cleared customs in Chicago and directed her luggage home, but never gotten on that last plane?Why hadn't she called from Chicago like she'd promised to let her family know when to pick her up?How could a shy 32-year-old woman who was the picture of responsibility just vanish?
Where is Wansah?
"We're still in shock," her sister Dilma, 28, says from the Hadgis' Lincoln home, shared by all five children and their father, Mashko. "You see this happening to other people. But not your family." Three weeks have passed since Wansah's cousin dropped her off at the airport in Damascus, Syria, with $700 in cash. Wansah called Dilma to say she was on her way home and would call from Chicago. But she never did, and now family and friends are searching for answers.
Authorities know she didn't check into the Hilton hotel across from the Chicago airport. She hasn't been arrested or otherwise been contacted by police anywhere in the country. Her Social Security card shows no new activity as it would if, say, she had applied for a new job. She hasn't showed up at Cook's Ham, where she's worked in packaging since 2000; hasn't contacted her family, to whom she's been a maternal figure since her mother died several years ago; hasn't returned to Lincoln to pursue dreams of perfecting her English, earning a GED and attending college.
The Hadgis filed a missing person's report in Lincoln, and Dilma and a younger brother drove to Chicago to file a report there. They've written a dozen letters to government officials asking for help. They've prayed for her return. They feel helpless. "I feel like I can do so little," says Mary Reed, a family friend in Lincoln.
Foul play?
Robert Berent is the Chicago detective working Wansah's case. He's a 29-year veteran of the police force who estimates he handles 2,000 missing persons reports a year. Sometimes, he says, women who disappear turn out to have run away with a romantic interest their families didn't know about. "We don't know who she talked to on that Jordanian airline," Berent says. "A lot of things could have transpired" during a long international flight.
It's also possible Wansah -- a U.S. citizen born in Iraq who bears a Muslim name, though she's Yazidi, not Muslim -- was stopped by a federal government agency. The Department of Homeland Security, for instance, surely was on high alert on the date Wansah was traveling. Berent has asked the government to check its databases to see if Wansah was indeed stopped. He's awaiting a response.
But, he says, there's comfort in the fact 97 percent of people reported missing eventually are found. And given the slim chance Wansah would have left a busy airport for an unfamiliar city by herself, Berent is confident she wasn't abducted or hurt at O'Hare."I can almost guarantee that there's no foul play in this case," he says.
Wansah's family and friends fear otherwise. Wansah was so shy she wouldn't even lift her head to make eye contact with a stranger -- much less strike up a romantic involvement, Dilma Hadgi says. And Wansah would never neglect her family, Dilma says. "She never gave problems to anyone," Mashko Hadgi says in Kurdish.
He's moodier since Wansah disappeared, Dilma says of Mashko. And with tears welling, she admits she's having trouble eating, sleeping, concentrating at school. Dilma and Wansah share a small bedroom, their beds just a few feet apart. They talked almost every night when Wansah got home from work around midnight, even though Dilma gets up early for school.
First trip alone
The Hadgis were part of a Yazidi minority in their native Iraq. Along with Christians, Yazidis are often persecuted in the mostly Muslim country. In the early 1980s, the family fled to Syria. In 1999, they made their way to Pennsylvania, and the next year they arrived in Lincoln. Wansah spoke of someday returning to Pennsylvania to reunite with other refugees the family had grown close to, her sister says.
Wansah became a U.S. citizen during a naturalization ceremony on Flag Day this year. She'd studied for the citizenship test for three years and was thrilled to pass, Dilma says. She hoped to continue her studies by someday attending college. Wansah did have challenges: In addition to being painfully shy, she had a poor sense of direction, even getting lost at Lincoln malls, Dilma says. As such, she was nervous for her Syria trip, the first time she would travel outside Nebraska by herself. But Dilma had been there recently, so Wansah decided she could handle it.
After leaving Nebraska on Aug. 14, though, she got lost at O'Hare. Without a cell phone, she called her family from a pay phone at the airport. One of her brothers hopped on a plane to Chicago to help Wansah get on the correct flight. When he arrived at O'Hare on Aug. 17, Wansah told him she'd stayed by the pay phone the entire time, even sleeping next to it at night. So when Wansah didn't return to Nebraska on schedule, the family at first assumed she must have gotten lost again, Dilma says. They waited for another phone call from a sheepish Wansah.
They're still waiting.