One of the Behlen buildings that survived the atomic bomb at Operation Cue. This building was on display at the Nebraska State Fair in 1955. Source - NSHS, RG PC1783:36-22.
Below the Roberts Dairy farm near Elkhorn was a fallout shelter for cattle. Feed in the silo in the background was protected from fallout as long as the silo remained undamaged. May 1968. Source - U.S. Army.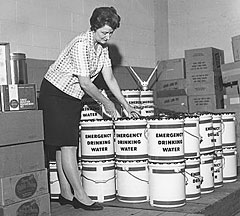 Shelter supplies in Robert's Dairy Company's personnel fallout shelter were stocked by the company. Bessie Van Deusen, an executive secretary, examines water containers for 36 employees. The shelter was ventilated and lighted by an emergency generator. (17-20 May 1968) On the left are two Bendix "Family Radiation Measurement Kits" that was sold commercially at the time. Source - US Army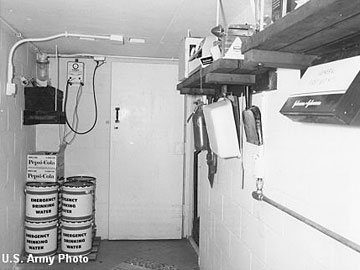 Fire extinguisher, first aid kit, stored water, and other supplies in personnel fallout shelter at the Roberts Dairy Company Farm. The meter on the wall, left of the door, is a trickle charger, which keeps emergency batteries fully charged. May 1968. Source - U.S. Army.